1.How to Put on A Basic Wig
Four simple steps to put on your wig:

Secure your own hair by pinning or using a Wig Cap or Liner.
Spray your new wig with wig care solution.
Remove the hair net and hold wig at the front hairline and gently shake to separate the fibers.
Hold your wig by its sides and slip it over your head. Adjust until the wig looks like your own hairline at the front. The sides will be a close fit and the entire head shape will look natural. Each wig can be adjusted for your particular head size.
2.How to Apply A Lace Wig
Four steps to put on your lace wig: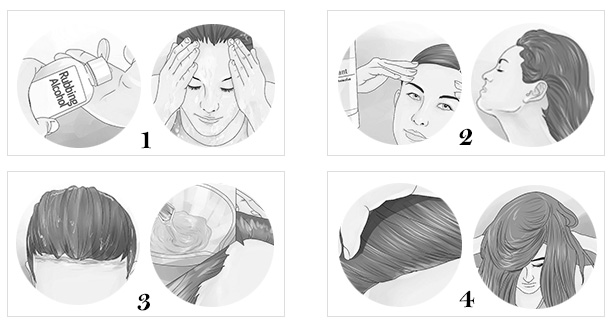 Clean the skin with soap and water. Dab Isopropyl Rubbing Alcohol to the skin around the perimeter of the hairline.
Apply a thin layer of skin protectant to the skin around the perimeter of the hairline. Allow the skin protectant to dry completely.
Apply a thin layer of the liquid adhesive glue to your natural hairline. Allow the liquid adhesive glue to dry completely.
Neatly position the wig on your head. Press and hold the lace front wig firmly into position for at least one minute.
3.How to wear a 3/4 wig or half wig
This guide shows you how to put a 3/4 wig or half wig on.

Either make a ponytail at the back of your head for short hair, or at the top of your head if you have longer hair or simply pull your hair back, but don't tie it up - if it is volume that you are after.
Align the flexi-comb at the top of your head, and slide the comb firmly against your scalp. For added security you can also secure the lower flexi-comb at the nape of your neck, by sliding it upwards.
You can cover the seam of the 3/4 wig with a headband or you can style your own hair over the seam with or without a fringe.
4.How to apply wrap ponytail

Brush your hair into a ponytail and secure with an elastic band.
Slip straight comb under the rubber band. Remember, the teeth should be pointing back (not straight down).
Wrap base around ponytail. Wrap side section of hair around your ponytail, concealing the elastic and secure with a bobby pin (or two).
5.How to apply claw clip ponytail

Gather your hair into a twist and hold firmly against your head.
Open the Claw Clip and attach it over your twist, holding it securely in place. No hairpins are needed.
Stylish, instant, comfortable, easy, natural-looking and fun…create a great new look!
6.How to apply drawstring ponytail

Create a small ponytail centered high on the back of the head; Create several additional mini ponytails as close as possible to the initial ponytail; Gather the small ponytails and band them together.
Insert the top comb of the drawstring ponytail behind the natural hair ponytail cluster. Insert the bottom comb in the same way.
Stretch the sides of the drawstring base over the ponytail clusters to hide them.
Cinch the drawstring down, wind it up, and tuck it underneath the netting.
7.Cleaning the Wigs
To take care of your wig, follow the manufacturer's instruction or follow these simple instructions below that apply to your type of wig:

Detangle Before you wash, be sure to carefully detangle the hair using a wide tooth comb. Work gradually from the ends.
Shampoo Using cool water and a gentle touch, get the hair wet. Pour a capful of human hair wig shampoo in the water. Soak your wig for 3-5 minutes. Gently swirl without rubbing.
Rinse Let cool water run through the hair, flowing in same direction of the hair to avoid tangling. When shampoo is removed, gently pat and press the hair with a soft towel to remove excess water. Avoid wringing or twisting.
Condition Distribute conditioner throughout the hair taking care to avoid roots. Rinse thoroughly with cool water unless you are using a spray-in, leave-in conditioner.
Dry Gently pat and press hair with a soft towel to remove excess water. Do not rub, squeeze, twist or wring hair. Place the wig on either a poly head, or a wig stand to air dry.
Note:
Human hair wigs is durable, generally costs more, and has the most natural look and feel of any wig you can buy.
Synthetic wig is less expensive than human hair and is durable. Traditional curling irons, blow dryers and hot rollers CANNOT be used on synthetic hair fiber.
Styling the Hair
Use your fingers or a wide tooth comb to style your synthetic wig. Define layers with Synthetic-Safe styling products. For curly wigs, use a pick or comb to loosen fibers, but do not pull on the hair.
Storing the Hair
When not in use, always put your wig on a mannequin or wig stand to maintain its shape. Frequency of cleaning will depend on your environment, lifestyle and amount of perspiration. Suggested for cleaning is after 10 to 14 days of wear.
It is best to store the human hair in its original container. Or you can store the hair in a plastic bag.