20 Strands Keratin Hair Extensions Description
The latest innovation of hair extensions. It is easy to use without heat or glue.Micro Loop Ring Hair extensions is made by 100% finest human hair and it has micro ring already in place. All you need is the pliers. You can straighten, curl and cut it.
* 0.8g*20 for 18 inches
* Full Length: Actual length is 2 inches longer. For example: full length is 20 inches for the 18 inches hair product.

Due to the differences of computer display, the item colour may be a little different from the picture, but we promise it is not the quality issue.
Total Delivery Time = Processing Time + Delivery Time
Processing Time
There are different processing times for different orders. You can see more details as followings:
• Standard Order: It will take 3-5 business days to produce wigs and hair extensions.
• Lace Front Wigs Order: It will take 5-7 business days to produce your wigs.
• Monofilament Wigs Order: It will take 10-13 business days to produce your wigs.
• Full Lace Wigs Order: It will take 7-10 business days to produce your wigs.
Delivery Time
It will take 1-3 business days for delivery.
Delivery Methods
We will deliver your order DHL/ RPX/DPD. According to credit cards clearance, address confirmation and availabilities of our products. Our customer service department may need 1-2 working days to process your order. So please wait patiently.
Order Tracking
The tracking No. of your parcel will be sent to you after your order is delivered. You may use it to check the status of your order online.
http://www.dpd.co.uk/tracking/tracking.do
http://www.dhl.com/en/express/tracking.html
http://www.rpxonline.com/
Delivery Charge
Free shipping for all wigs.
Cancellation Policy
Our cancellation policy is built on the basis of the fairness between customers and suppliers. Moreover, it is important to note that our wigs are custom made, and once the wig start to produce means the materials cannot be used again. We offer the cancellation instruction as follows.
1.Orders canceled within 24 hours of payment confirmation will be eligible for a full refund.
2.Orders canceled after 24 hours, sorry to say that we will charge 40% of the payment as the material fee for the manufacturer.
3.Orders canceled after we have posted to you, sorry to say that we will charge 50% of the payment for the material fee and the postage.
Return Policy
Your satisfaction is the most important thing to us. Any problems after you receive the wig, please contact us by live chat or email within 7 days of receipt. Please send us some photos of the item to state your problems first. If it is our problems, we will take responsibility for it and return the money back to you. Please note that all items should be returned in its original package within 30 days for receipt.
How to fit Micro ring extensions
Step 1: Create a horizontal part using a tail comb or your fingers starting about one inch above your ears. Twist a section of your hair and clip it out of the way using duck-bill clip(s).
Step 2: Twist a small piece of your own hair, Hold the micro ring and pull the big end of the plastic loop until your own piece of hair through the micro ring.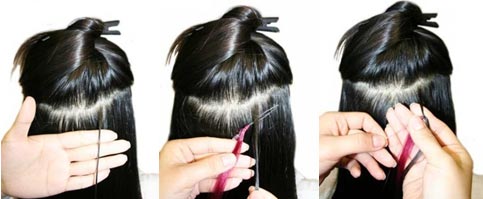 Step 3: After that, the plastic loop should be completely free from the micro ring and hair extensions. Please keep this plastic loop for re-apply purpose if necessary.
Step 4: Pull the micro ring up to about 0.8cm to 1cm from scalp.
Step 5: Grip the micro ring by pliers and the hair extensions is now firmly applied on.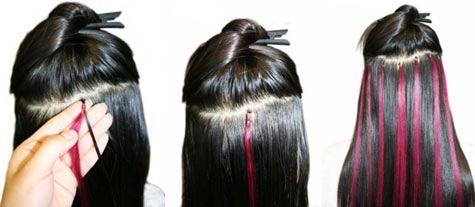 Due to natural hair growth, your extensions will need to be repositioned. Step 1: Using the salon pliers, and starting from the top of the head, one at a time, un-flatten each micro ring slightly. Step 2: Reposition to sit approximately 0.8cm to 1cm from the scalp. Re-flat the micro ring do that the flattened ring is again parallel with the scalp. Repeat this process on each row. WARNING: If the hair strands fall off, repeat the process as shown in how to apply.


Cleaning the hair extensions
Follow the instructions for determining how and when you should wash and care for your products. To keep your hair product looking new and fresh as long as possible! Just like your own hair, hair extensions will accumulate residue through normal wear. If you are wearing the hair all day, every day, you can wash them after 3-4 times wearing. First, gently remove any tangles, gently work a small amount of shampoo into the hair, stroking downwards from the weft base to the ends. Do not twist, scrub or rub the hair. Always use a mild shampoo or one specifically formulated for chemically treated hair. Run the hair under warm water, rinse thoroughly until the water runs clear, as improper rinsing could result in damage. Gently spray conditioner and let stay for three to five minutes. Rinse thoroughly in warm water and gently towel blot to remove excess water. Spray a leave-in conditioner before combing. Starting at the ends, hold the hair firmly. Just treat your hair as if it is on the head of a "Tender-Headed" person! Using a large toothed comb gently to remove tangles, do not use a bristle brush on wet hair. Hang to air dry, set in rollers, or use a blow dryer on a low setting, as desired. If the hair is excessively dry, a "professional" conditioner may be necessary. Steam rollers and/or wet setting are the safest way for curling. Blow dryers, curling irons and other thermal tools may be used on low settings. Remember, the hair may scorch if the setting is too high. If use electric rollers, make sure that the ends are wrapped into the rollers. For cutting, perm or any chemical processes, take the extensions to the professional stylist. Remember Remember to always take your new hair to a salon professional if you need it customized. This will give you the best results! It is best to store the hair in its original container. You can also store the hair in a plastic bag. You may set the hair on rollers that conform to the curl size you wish to maintain before storing in plastic. Do not sleep or swim while wearing the human hair.