Sleek Synthetic Bun Description
Fiber Type: Synthetic
Shown Colour: 26
Weight: 64g

What is it: A sleek ponytail attaches over your bun using a comb and pressure sensitive clip. Includes drawstring and pin loops for added security.

Why is it different: Allows you to achieve the season's hottest look with a simple bun base! Its revolutionary 2 in 1 hair attachment system consists of a bun base with pressure sensitive clip and easy insert comb! Features a net base bun option that can be securely fastened onto an existing small bun for maximum security.

Who is it for: Any woman who wants to instantly change her look with ease. Look and feel beautiful at an affordable price!

How do I use it: Simply gather your hair into a small bun and clip on the hairpiece and your ready to go!

Due to the differences of computer display, the item colour may be a little different from the picture, but we promise it is not the quality issue.
Total Delivery Time = Processing Time + Delivery Time
Processing Time
There are different processing times for different orders. You can see more details as followings:
• Standard Order: It will take 3-5 business days to produce wigs and hair extensions.
• Lace Front Wigs Order: It will take 5-7 business days to produce your wigs.
• Monofilament Wigs Order: It will take 10-13 business days to produce your wigs.
• Full Lace Wigs Order: It will take 7-10 business days to produce your wigs.
Delivery Time
It will take 1-3 business days for delivery.
Delivery Methods
We will deliver your order DHL/ RPX/DPD. According to credit cards clearance, address confirmation and availabilities of our products. Our customer service department may need 1-2 working days to process your order. So please wait patiently.
Order Tracking
The tracking No. of your parcel will be sent to you after your order is delivered. You may use it to check the status of your order online.
http://www.dpd.co.uk/tracking/tracking.do
http://www.dhl.com/en/express/tracking.html
http://www.rpxonline.com/
Delivery Charge
Free shipping for all wigs.
Cancellation Policy
Our cancellation policy is built on the basis of the fairness between customers and suppliers. Moreover, it is important to note that our wigs are custom made, and once the wig start to produce means the materials cannot be used again. We offer the cancellation instruction as follows.
1.Orders canceled within 24 hours of payment confirmation will be eligible for a full refund.
2.Orders canceled after 24 hours, sorry to say that we will charge 40% of the payment as the material fee for the manufacturer.
3.Orders canceled after we have posted to you, sorry to say that we will charge 50% of the payment for the material fee and the postage.
Return Policy
Your satisfaction is the most important thing to us. Any problems after you receive the wig, please contact us by live chat or email within 7 days of receipt. Please send us some photos of the item to state your problems first. If it is our problems, we will take responsibility for it and return the money back to you. Please note that all items should be returned in its original package within 30 days for receipt.
Step 1 Make a ponytail or bun with your own hair. Secure with an elastic band and/or bobby pins.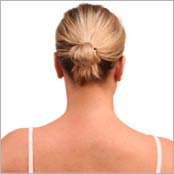 Step 2 Open the pressure sensitive clips by pressing the center of the clip inward.

Step 3 Place the updo over the top of your ponytail/bun. And it is best to place clip just above where you want to wear. Secure your updo in place by snapping the pressure sensitive clip closed.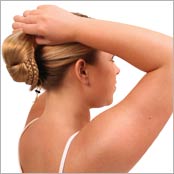 Step 4 Scoop the bottom clip into your bun securing the updo to your own hair.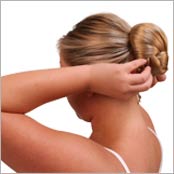 Step 5 If your updo has a drawstring, pull both draw strings until the piece is secured to your own hair. Tie strings together and tuck them inside your updo.